Is Your Hotel Sales and Marketing Organization Effective?
March 2022 marks the second anniversary of the beginning of COVID 19. The rollercoaster ride of travel demand has been challenging, and through it all it's become clear that it will be some time before we return to 'normal,' if ever. Vaccinations, mask-wearing, illness, and possibly even some restrictions will be with us for the next few years—all of which will continue to have implications for the hospitality industry.
What is abundantly clear is the need for each hotel to figure out what the opportunities are and how to capitalize on them. This is especially important for your sales and marketing organization as they assess who is traveling to the destination now and who will be coming in the future. Being ahead of the trends is vital to beat your competition and get a head start on marketing and selling to this audience before they actually need your services.
These last two years have shaken up hospitality sales; many important contacts have left their jobs, key market segments have become stagnant, and staffing shortages have meant fewer people doing many jobs. These are just a few considerations a sales and marketing leader needs to analyze to determine who to target, when and how to connect with them, and whether the leader has the right team to win the business.
Is now the time to consider a deep-dive review of the revenue-generating engine for the hotel?
A sales and marketing review will identify gaps in deployment coverage, weak links in the sales team, ineffective sales leadership, process inefficiencies, competitive niche opportunities, and as-yet-uncovered trends to leverage. Once it's determined what is going well and areas of opportunity are identified, a Blueprint for Success is prepared, with a detailed action plan breaking down short-term action (things to be done within the next six months) and longer-term action that may also require a financial investment.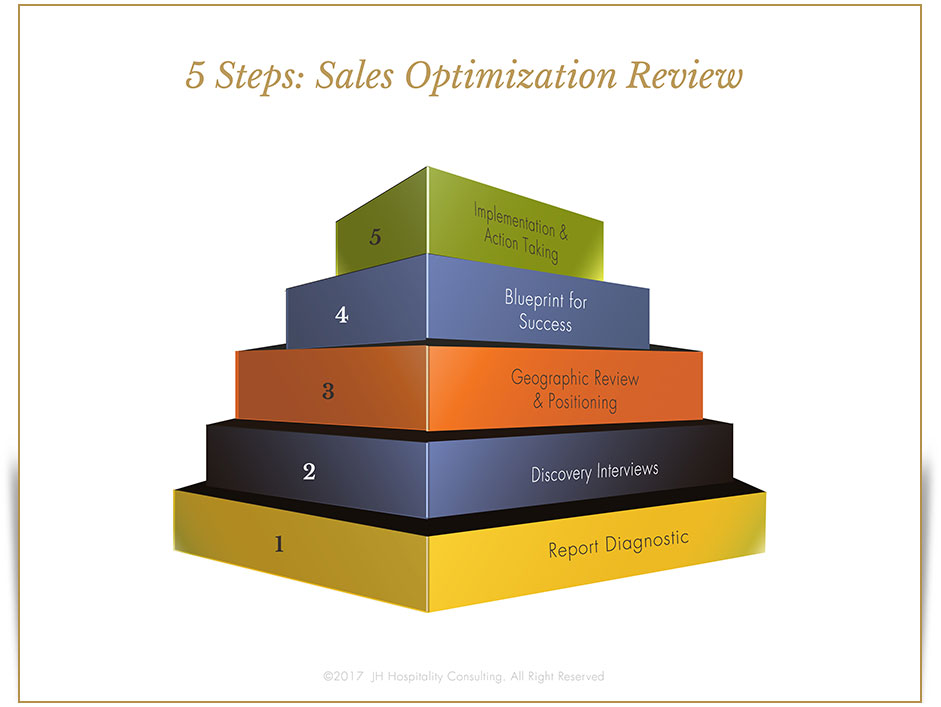 What are the results? Past reviews have resulted in up to 25-percent improvement in total hotel revenue within one year of engagement.